How to Start Biking
If you're ready to shape up, have fun and burn as many as 900 calories an hour (yes, please!), check out Health's right-now guide to biking.
3 Ways to bike stronger
"Muscle imbalances increase your risk of back, neck or knee pain and decrease your efficiency on the bike," notes celebrity trainer Michelle Lovitt. These moves strengthen your body and help boost your biking ability. Do 3 sets of 15 reps of each, 3 times a week, on days when you're not cycling. Start with a light weight (5 pounds) and build up.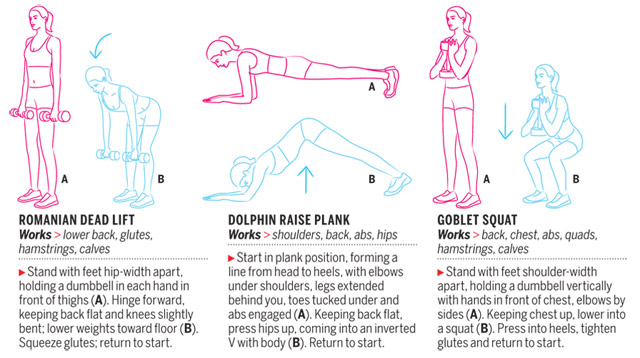 Jason Lee
Gear Up!: Seven essentials for your next ride
1 Buttery soft, moisture-wicking and supportive, the Pearl Izumi W Symphony tank is universally flattering. We also love the three roomy back pockets. ($70; pearlizumi.com)
2 The Specialized Women's Aspire helmet is lightweight and vented, and it adjusts to fit any head—or ponytail—comfortably. ($65; specialized.com)
3 Transition from sneakers to cycling shoes with the women-specific Shimano SH-CW40. The breathable style has a recessed cleat that makes it a cinch to clip in and out—and easier to walk around off the bike. ($90; shimano.com)
4 The Topeak Deluxe Kit has everything you need to fix a flat—two tire levers, a mini-pump, six tire patches and a seven-function multitool. ($30; rei.com)
5 Skip the tight short-shorts and try the comfy Terry Bella Knickers. They're flat-stitched capris with an elastic-free waist, reflective accents and a breathable, bulk-free chamois. ($120; terrybicycles.com)
6 Carry energy gels, maps and your tire fix-it kit in the Timbuk2 Seat Pack XT saddle pack, which buckles onto the back of your saddle. ($28; timbuk2.com)
7 Reduce pressure on wrists and hands with Bontrager Solstice gloves. Highlights: gel foam padding and a soft terry thumb to wipe away sweat. ($25; bontrager.com)